So I suddenly realised this morning that I missed my 4 year modelling anniversary, which was yesterday! I know it's not a big deal, so I don't expect cake (though cake is never turned away), but it's quite exciting to look back over the past 4 years and see how far I've come.
With that in mind, I'll be posting some of my favourite images from the past 4 years, starting with the very first photo shoot I ever did, a photograph taken by
Chris Lowe
, a friend of mine who asked me to pose for him on day in Abington Park, Northampton.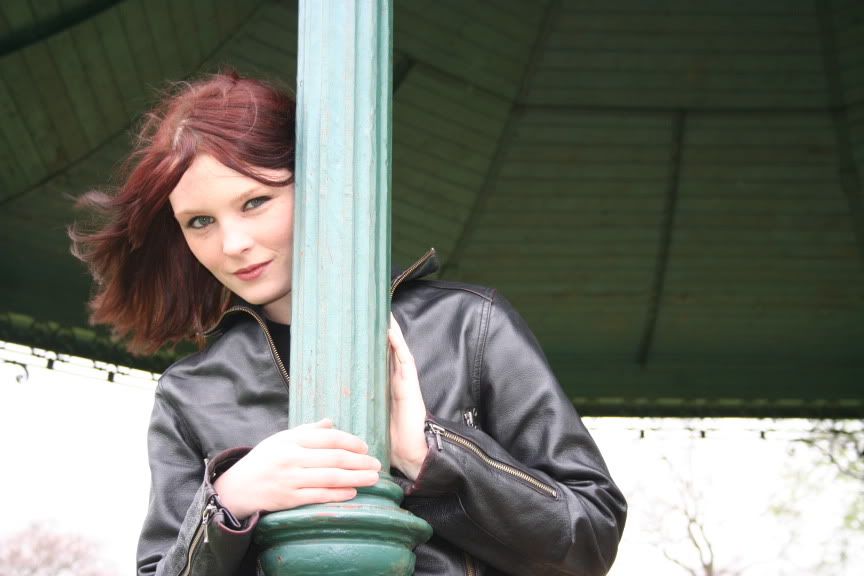 The first time I seriously considered modelling. Photograph by Chris Lowe
Once I'd done that shoot with Chris, I was pretty much hooked. I happened to be over at a friend's house for dinner not long after and met the lovely
Araminta
, who told me about Net-Model and said I should sign up if I wanted to give this modelling malarkey a go. A few days later (on 8/8/08 in fact), I signed up to the site and uploaded a few pictures.
Not very long later, I was approached by
Andy K Stratford
and a few days later, on a bit of the spur of the moment, he turned up at mine, camera and lights in hand, ready to help kick off my portfolio. I still absolutely adore a particular image that came out of that shoot, and I've had numerous people over the years tell me that they think of it as my 'signature shot'.
Here it is:
I've tried so many times to recreate this image with my updated look, but nothing comes close!
Whilst still in my first year of modelling, I had the pleasure of working with so many wonderful people who really helped me build up my portfolio, gain experience and hone my skills as a model. The two images that stick in my mind are completely different to each other. The first is a shot taken at a group shoot at Kirby Hall, by a photographer called Matt Field.
The idea for this came to us on my cigarette break. It's such a haunting image <3
The next image is from a shoot I did with
Ian Biggs
(who I've been informed has gone across to photographing British Superbikes, awesome!). I wanted to do a punk inspired shoot and got my housemate (a punk herself) to help me with the styling.
This was shot with completely natural light in my lounge.
Fast forward a little and it doesn't take me long to realise that as much as I admired the art nude models and enjoyed looking at their work, I wanted to BE one! Back to
Andy
again for my first nude shoot.
I look back at this now and feel pride at how free flowing and comfortable I look!
2009 and 2010 saw me working with some fantastic photographers all over the country and ROI.
One of the first "lifestyle" shots I did. Photograph by Ciaran Whyte
More nakedness! This time in a steel mill with Nick Giles
A spur of the moment shoot in Covent Garden with Eddie Cheng
2011 had me doing my first 'proper' lifestyle shoot, duo nude shoot and something a little sexier than I'd previously done. There were so many pictures from 2011, it was hard to pick the ones that stand out to me! I wish I could include more, but this blog is already a little overloaded with images!
And welcome to 2012!
I moved to Hong Kong early this year with my boyfriend Ras, as I'm sure you'll know, and have been working just as hard as ever. January was the first anniversary of being full time and boy have I done a lot of work! Rather than show you a load of recent images you've no doubt seen in my recent blog posts and on my
Facebook page
, I thought I'd share with you a brand new image from my very latest shoot, as a reward for getting this far!
I never thought I'd be able to turn my hobby into a full time career, but here I am with several publications under my belt, having worked with some of the finest photographers the U.K, Ireland and Hong Kong has to offer and on the cusp of being signed to one of Hong Kong's leading agencies!
See you soon,
Hannah xxx